MBG CEO, board member named among 'Top 100 People of 2022'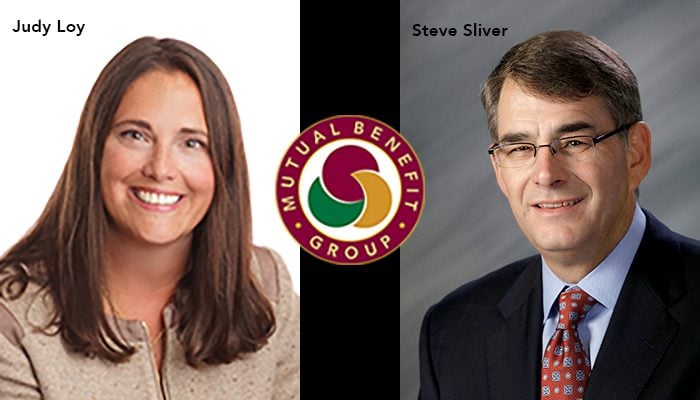 Mutual Benefit Group President and CEO Steven C. Sliver, Huntingdon, PA, and Board Member Judy L. Loy, chief executive officer, Nestlerode & Loy, Inc., State College, PA, were named to the "Top 100 People List for 2022" by PA Business Central.
Sliver's 44 years of experience, influence and leadership in the insurance industry have led to his service as Chairman of the Board of Directors of the National Association of Mutual Insurance Compa­nies (NAMIC) for 2021-22. Steve also currently serves on the FNB Central Mountain Region Community Bank Board. He is a past president of the Pennsylvania Association of Mutual Insurance Com­panies and served on the Insurance Advisory Board.
A native of southcentral Pennsylvania, Sliver holds a bachelor's degree in economics from the Wharton School at the University of Pennsylvania. Prior to joining Mutual Benefit Group, he served as vice president, treasurer, and chief operating officer of Millers Mutual Insurance Company, Harrisburg, PA, and as director of corporate financial support for Pennsylvania Blue Shield, Harrisburg, PA. His community activities through the years have included service as a school board director; a classroom consultant and board member for Junior Achievement; a member of the board of directors and a campaign co-chair for United Way of Huntingdon County; Rotary Club president; and president of Huntingdon County Business and Industry. He recently served as the percussion instruc­tor for the Huntingdon Area High School Marching Band.
Loy is a graduate of Penn State University and current CEO and financial advisor for Nestlerode and Loy Investment Advisors. Low started working at Nestlerode & Co., Inc. immediately upon graduation and feels lucky to have found her niche so early in her career. She started as a data entry clerk and was given plenty of opportunities to grow and learn. Through the years, she held the positions of chief compliance of­ficer and chief financial officer. In 2005, Loy and Dan Nestlerode reached an agreement for Loy to take over the business, and the name was changed to Nestlerode & Loy, Inc. When Nestlerode retired from management in 2008, Loy became the CEO and pri­mary owner of the firm.
Loy has served on the boards of Centre Volunteers and Medicine, Centre County Chamber of Business and Industry and Habitat for Humanity. She currently serves on the boards of Leadership Centre County, University Park Plaza and Mutual Benefit Group. In addition to her personal community involvement, the company is also involved in supporting numerous local charities.
Each year, Pennsylvania Business Central celebrates the top 100 people in business and economic development who have learned how to develop their organizations and communities. The Commonwealth continues to grow and thrive because of great people—people just like those in the Top 100. To read more about the award, visit Pennsylvania Business Central's website.