Automatic Garage Door Safety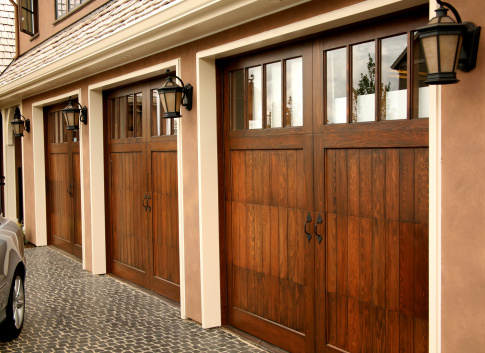 More than 45 percent of American homeowners with a garage say they use the garage door as the primary point of entry into their home. And for those with remote-controlled access to the garage, 89 percent say they rely on the garage as their regular entry into the house. With such regular use, the automatic garage door should be one of the most well maintained and safest components of your house. But is it? The following information helps identify some often overlooked safety and maintenance aspects surrounding automatic garage doors you can put into place to help keep you and your family safe. Safety First The garage door is usually the largest moving object in your home. Pay attention to activity in and around the garage door at all times, particularly when activating or opening the door.
Never stand or walk under a moving door. And, no matter how tempting, do not let children play "beat the door." Set a good example and patiently wait for the door to fully open before entering or exiting, whether on foot or in a vehicle.
Never let children play with the remote control, in-car access controls, or smart app.
During installation, position the wall control out of reach of children, at least five feet from the floor, and away from all moving parts. And, be sure the placement allows you to clearly see the moving garage door while using the wall control.
Garage Door Maintenance It's recommended that you perform monthly garage door/opener maintenance checks to keep your system running at optimal performance.
Visually inspect the springs, rollers, pulleys, cables, and track. If you notice problems, have a qualified repair professional make further assessment. Be cautious…the springs are under high tension. Do not attempt to adjust them yourself. They must be adjusted by a professional and in accordance with manufacturer's recommendations.
Lubricate moving parts, as needed, in consultation with the manufacturer's specifications.
Test the door balance. You should be able to lift the door smoothly and with little resistance. It should stay open around three or four feet above the floor. If it doesn't, it may be out of adjustment. Adjustments of this nature should only be performed by a qualified professional.
Test both the reversing mechanism and the "electric eye" once a month. Consult the manufacturer's guide for information on adjusting.
Check that an emergency release handle (usually red color) is present and that it works properly by detaching the door from the door opener. Reset the emergency release handle after testing.
It is recommended that you contact a qualified professional for help maintaining or repairing your garage door. The many components must all work together correctly to provide you with the safest experience. Only a trusted professional can provide a thorough inspection and make appropriate recommendations. Source: Door & Access Systems Manufacturers Association International; International Door Association