Portable Ladder Safety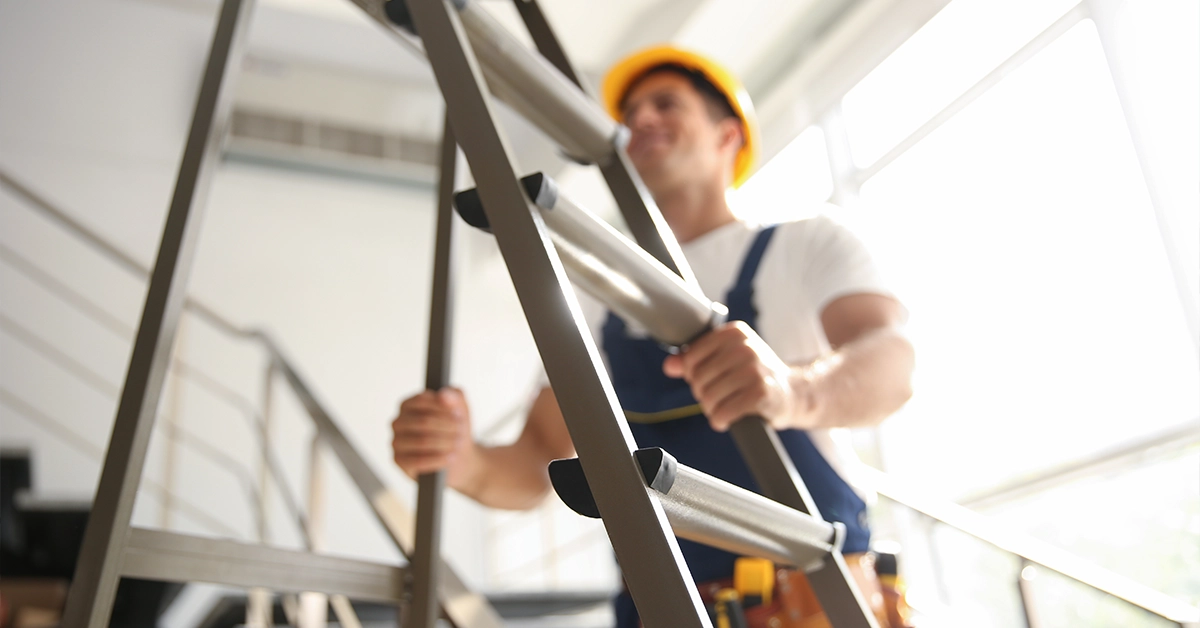 Guidelines on Portable Ladder Safety
Portable ladders are one of the handiest, simplest tools we use. Because of their effectiveness, ladders are used by many different people to perform many different tasks. Although ladders are not complicated, planning and care are still required to use them safely.
Proper Selection
Ladders should be designed for the intended purpose – do not use step ladders as extension ladders or use ladders in horizontal position as work platforms.
Select the proper type of ladder for the job:

Type I – heavy-duty/industrial – 250 lbs.
Type II – medium-duty/commercial – 225 lbs.
Type III – light duty/residential – 200 lbs.
Type IA – extra heavy duty

Remember to consider the weight of your tools when selecting a ladder.
Choose a ladder of at least commercial/light industrial grade. Residential ladders are not acceptable for anything but home use.
Select a ladder of proper length to safely reach the desired height.
Fiberglass ladders are recommended for most applications. They are conducive to working around electricity; their carrying/handling weight relatively light; and they require less maintenance than other ladders.
Inspection Before Each Use
Inspect thoroughly for missing or damaged components. Never use a damaged ladder and never make temporary repairs.
Inspect thoroughly for loose fasteners. Make sure all working parts are in good working order. Lubricate if necessary.
Clean ladder of all foreign material (wet paint, mud, snow, grease, oil, etc.).
Likely deficiencies of ladders include: loose rivets, bent supports, damaged steps/rungs, broken hinge pins.
Destroy ladder if damaged, worn, or exposed to fire or chemicals. Bring back to the shop, tag for inspection, put a note on your daily report and management will make the decision regarding destruction.
All labels need to be in place on ladders and no ladder should be painted to cover the inspection area.
Proper Set Up
Use help in setting up ladder if possible.
Ladders need to be placed on solid base. Do not place on unstable, loose, or slippery surfaces. Do not place in front of unlocked doors.
Secure base section before raising ladder to upright position. Step ladders need to have metal spreader locked before climbing. Extension ladders need to be placed in such a manner to provide 4:1 ratio of height of ladder to base/foot distance from vertical plane of top support. Example – A 12' high ladder placed against a wall should have the base 3' from wall.
Extension ladders should be tied off at the top as well as where they are used to gain access to roof or platform. Do not overextend. A minimum overlap section is required as follows:

Ladder size up to and including 32 feet: 3-foot overlap
Over 32 feet up to and including 36 feet: 4-foot overlap
Over 36 feet up to and including 48 feet: 5-foot overlap
Sizes over 48 feet: 6-foot overlap

Position ladder directly against support surface. Make sure ladder does not lean to the side.
Ladders set up in public thoroughfares or other places where there is potential for accidental collision with them must be provided with effective means to prevent the displacement of the ladder due to collisions, for example, use of barricades.
Proper Use
Only one person at a time may use or work from a single ladder.
Always face the ladder when ascending or descending it. Maintain a firm grip, and use both hands when climbing.
Keep body centered between side rails. Do not over reach. Always keep work within an arm's reach from the ladder.
Do not climb higher than the third rung from the top of the ladder.
Be sure shoes are the right type for working on a ladder and are not muddy or have slippery soles.
Proper Care and Storage
Never paint a wooden ladder. Treat with wood preservative.
Store ladders in areas not subject to high heat, moisture, or weather.
Ladders should not be placed in areas where they would obstruct access to equipment, exit ways, or proper operation of heaters, vents, and air handling equipment.