Mutual Benefit Group listed among Best Places to Work in Pennsylvania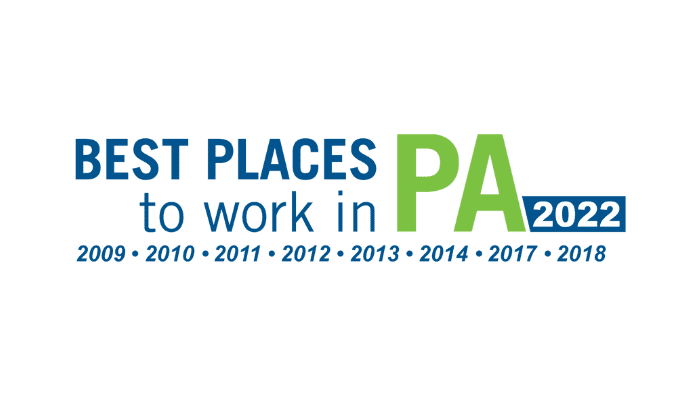 Central Penn Business Journal has named Mutual Benefit Group as one of the Best Places to Work in PA. The awards are held in partnership with Best Companies Group. This is the ninth time Mutual Benefit has received this honor.
Best Places to Work in PA identifies, recognizes and honors the best places of employment in Pennsylvania in three categories: small companies (15-99 employees), medium companies (100-249) and large companies (250 or more). To be considered, companies must have at least 15 employees working in Pennsylvania; be a for-profit or not-for-profit business or government entity; be a publicly or privately held business; have a facility in the state of Pennsylvania; and be in business a minimum of one year.
"After the past few years dealing with Covid and the many disruptions that resulted for our employees and their working environments, it is so very exciting to be once again selected as a Best Place to Work," comments President and CEO Steve Sliver, who will be retiring at the end of this year. "As I've always indicated in the past, the best people are the key to being named a Best Place to Work, and this year's acknowledgement begins with my teammates as well. I am proud to have been associated with Mutual Benefit for over 30 years. I can honestly say that this Company has been a Best Place to Work through the years because our employees have provided the best service to our customers and agents, and the best support for their teammates, without exception."
There were two parts used to determine the rankings. The first consisted of evaluating each nominated company's workplace policies, practices and demographics, worth approximately 25% of the total evaluation. The second part consisted of an employee survey to measure the employee experience, which consisted of 75% of the total. The combined scores determined the top companies and the final ranking.
"In my very first all-employee meeting, I began by emphasizing 'the most important part of our Company is our people; the most important part of Mutual Benefit Group is you,'" said Gary Williams, President and CEO-Elect of Mutual Benefit. "This recognition spotlights Mutual Benefit's core values of integrity, community and dependability. We strive to make them part of everything we do. I am honored and privileged to serve our Company alongside every person on our team. I say a big thank you to everyone on our team for making Mutual Benefit Group one of the Best Places to Work in PA!"
Mutual Benefit will be recognized on Dec. 8, 2022, at a celebration starting at 4:30 p.m. at the Lancaster Marriott at Penn Square Hotel, located in Lancaster, PA. Attendance is limited for this event. Honorees and sponsors get the first chance to secure tables. Sponsorship includes a table for guests, multimedia marketing, an ad in the awards publication, logo usage and more. To secure a sponsorship, contact Suzanne Fischer-Huettner at shuettner@bridgetowermedia.com. The event hashtag is #BestPlacesPA.
A limited number of individual tickets will be available after the sponsor deadline, if the event does not sell out.
Honorees will be profiled in a magazine that will be inserted into the Dec. 9 issue of Central Penn Business Journal and also distributed in the Dec. 19 issue of Lehigh Valley Business. The magazine will be available online at CPBJ.com.
For an updated listing of sponsors and more information about the event, visit CPBJ.com/event/best-places-work-pa/. For more information about the Best Places to Work in PA program, visit BestPlacestoWorkinPA.com.